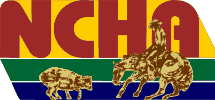 Featured Merchandise




NCHA Cinch Shirt
Code: NcMCS
Price: $77.00
Quantity in Basket: none

Men's Cinch shirt with NCHA logo.
Available colors: Black, Tan, and Blue
Available sizes: XS-XXL
Cinch shirts run approxiamately one size larger than most men's shirts.




NCHA Limited Edition Leather Jacket
Code: Nc50thJkt
Price: $299.00
Quantity in Basket: none

ON SALE NOW!
Cripple Creek full leather commemorative jacket with nylon lining. The jacket is embroidered on the left chest and center back with the official 50th Edition of the NCHA Futurity logo.
Available sizes: Men's XS-3XL
Limited quantity. Order today!
Was $399. Now $299.

*Some sizes and/or styles may not be available for immediate shipping.*

Click the links on the left to see our other NCHA merchandise.
Ask us about adding your favorite embroidery to any of our blank merchandise.
Home | Account | Search | View Basket | Checkout | Site Map | FAQ | Contact Us | Email Us



Browse the following Official Horse Club sites.
NCHA | ApHC | PtHA | FWSSR | Reichert | AMHA | NAPHA